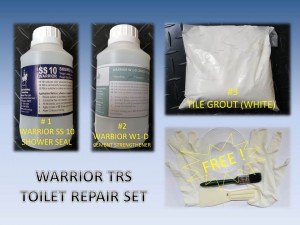 Rolled out the Warrior TRS Toilet Repair Set recently, for the DIY market of toilet water leakage repair. It is the first of its kind in the market, which includes complete tools and materials to stop water leakage in toilet.
Market reception has been encouraging, but some comments from customers must not be neglected. Among them:
Some house owners think that it is too complicated to carry out the 3 steps repair work as recommended in the TRS. They would prefer just a single-step water repellent.
There is only white tile grout in the TRS, but not every house owner would want white tile grooves. Dealers have suggested to change to grey coloured tile grout, which might suit more house owners
In some relatively new houses, tile grooves are fully-filled. There may be no space for patching tile grout.
There is still plenty to improve.