WATERPROOFING THIN SET TILE BONDING, TILE BONDING, ANTICHLORIDE, PLASTICISER, INJECTION POLYMER AND SEALER
BUY NOW ON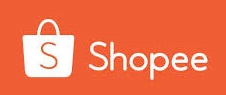 FEATURES
Cement added with W 1 will have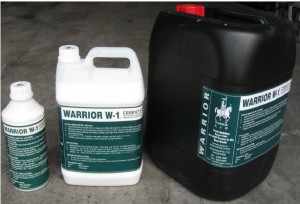 Improved bonding strength by 2 to 3 times to 30.57 kg/cm2. Especially good for bonding
homogeneous tiles, granites and marble tiles, and to prevent staining.
Increased flexural and compressive strength by 40% to 100%. Compressive strength to 56.00 N/mm2.
Flexural strength to 10.00 N/mm2. (ASTM C 39).
Quicken cement setting time. Reduced surface cracking and dusting, forming a very tight seal. Good for
wall plaster, wet area and swimming pool waterproofing.
10 to 20 times more resistant to oil, salt water, chloride, acid and vapour penetration. . A feature
particularly important in steel reinforced concrete structure.
Improved plasticity and flow (ASTM C 124-71), easier to work with, reduces porosity
W1 CEMENT STRENGTHENER is deemed to be suitable for use in contact with water intended for human
consumption tested against SS375 : 2001.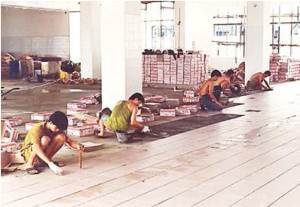 APPLICATION METHOD
Based on Cement: Sand ratio of 1 : 3.
The amount of water needed is 24 % by weight of cement.
This can be replaced totally with 24 % or lesser of W1 for optimum performance.
Tile Bonding Aid, Grouting Vapour & Waterproofing:
Dilute W 1 + Water = 1 + 1 by Volume, before adding into the Cement.
It will waterproof and bond tiles very strongly onto glass, glazed tile, steel and wood. Fine silica sand
of 0.5 mm diameter can be added for grouting the tile joints.
Tile-Over-Tile Bonding:
Dilute W 1 + Water = 1 + 1 by Volume, before adding into the Cement.
Thinly brush a coat the old tile surface with W 1 + Cement to about 1.0-mm.
While it is still wet, bond on the tile.
Wall Plaster & Cement Mortar for diverse range of Sealing, Repairs & Waterproofing:
Wall plastering, spalling concrete, corrosion preventing prime coat on reinforced steel bar, mending
worn out floor and holes, patching works around piping, re-pointing of brick works, tile joints, sealing
of old concrete, Asbestos sheet, fish tank & swimming pool.
Coating or Injection into Floor Screed, Wall & Absorbent Surface to Prevent Seepage & Waterproof:
Use W1 or Mix W1 + W5 MULTI-BOND, dilute as needed, to coat, or inject into the brick or cement, to
seal up porosity. Injection pressure is 100 psi. Normal drying time is 10 days at 30°C.
Type 1 Bonding:
Brush W1 polymer directly onto the cement surface, while it is still wet ( 10 minute drying time)
Apply the mortar directly onto it.
Type 2 Bonding:
Priming Slurry                   W1 + Cement =    1    +    2
Brush the slurry onto the cement surface, while it is still wet ( 10 minute drying time)
Apply the mortar directly onto it.
Type 2 method save on the W1 consumption, bonding strength is also higher.
TECHNICAL DATA
TÜV SÜD PSB Test Report No 7191031830 dated 19 April 2012.
Specific Gravity:                      1.01
pH:                                              9.5 Alkaline
Colour:                                       Milky Solution
Shelf Life:                                  12 months
Slant Shear Bond Strength: Type 1 9.7 N/mm2
                                                  Type 2 10.5 N/mm2

PACKING AVAILABLE
1kg-bottle, 4 kg-carboy and 20 kg-jerry can
BUY NOW ON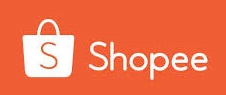 DOWNLOAD CATALOGUE in PDF (Right Click–Save As)
Disclaimer: The information provided in this website is ensured to be as accurate as possible at the time of inclusion, however there may be inadvertent and occasional errors which may have slipped from our notice. W-ONE MARKETING SDN BHD does not guarantee and make no representations or warranties of any kind about the information, advice and opinions provided and reserves the right to make changes and corrections at any time, without prior notice to any parties. W-ONE MARKETING SDN BHD accepts no liability for any inaccuracies or omissions in its website and any decisions made based on information and opinions contained in the website is the sole responsibility of the user.