MULTI PURPOSE ADHESIVE, TILE BONDING, NEW TO OLD CONRETE PLASTERING & BONDING, FLEXIBLE CEMENT WATERPROOFING AND CURING COMPOUND
USES
Waterproofing: Basement Wall, Tunnel, Toilet Floor, Concrete Rooftop, Flower Trough, Swimming pool,
Water Tank, Pool and fishpond.
Multi-purpose Adhesive: Use direct for wallpaper. Carpet and wood parquet bonding. Bonding Vinyl
film onto plywood. Fibre to paper, fibre to foil, vinyl to film, ceramic tile setting, and asphalt tile to floor.
Injection into Screed and Wall to Waterproof: Use W 5 by itself or a mix polymer to inject. Injection
Pressure is 100 phi. Drying Time is about 10 days at 300C inside the sand screed.
Water Tank & Roof top Waterproofing :
Use W5 + Plastering Cement (or Cement) to form an elastic membrane.
New to Old Concrete Bonding
Curing Compound Dilute W5 Multibond with Water (Ratio 1: 4)
FEATURES
Cement added with W 5 will
Able to work on damp surfaces, able to act against flowing water to stop leak. Waterproofing effectively
on the positive and negative side. Non-toxic water-based polymer. Improve elasticity with self-levelling
property, reduces porosity, Reduces shrinkage by up to 10 times for cement sand screed, and thus reduces
shrinkage cracks. It increases cement-setting time by 1 hour.
Good for wall plastering and admixture for non-shrink grout. After application, 1 to 2 days for curing by
wetting is enough.
Improved bonding strength by 2 to 3 times to 30.57 kg/ cm2. Especially good for bonding Homogeneous
tiles, granites and marble tiles and wood bonding. Bond directly onto concrete surface.
Allows thin plastering work. Does not yellow exposed to sunlight.
Increased flexural strength to 71.33-kg/ cm2 and compressive strength to 407.6-kg/ cm2.
Chloride, salt water, oil, vapours and mild acid resistance, a feature particularly suitable for concrete
structure builds around the marina. It resists water pressure to 15.28-kg/ cm2.
APPLICATION METHODS
Based on Cement + Sand ratio of 1 + 3, the amount of water needed is 24% by weight of cement, which can be replaced totally with 24% of W 5 or its dilution for optimum performance.
Ensure surfaces to be coated are clean and intact, remove paintwork or grease thoroughly. No chipping to the cement surface is needed. Dampen all surfaces before application.
Tile Adhesive and Cement Slurry Bonding & Waterproofing
Dilute W 5 : Water : Cement = 1 : 2 : 15 by weight.
Usage: 0.26 kg / sq. m. per 2 mm thick.    8 % W 5 based on weight of Cement.
For Tile-Over-Tile Bonding: Skim-coat the Old tile surface with W 5 + Cement before tiling the next day.
Cement Slurry Waterproofing:
Dilute W 5 with 1 time of water. Mix cement with the diluted W 5 solution (40% of the weight of cement).
Usage: 0.4 kg / sq. m. per 2 mm thick.     20% W 5 based on weight of Cement
Higher dosage of W5 increases the flexibility of Cement, and else wise.
New to Old Concrete Bonding, Cement Sand Screed, Wall & Ceiling Plaster.
• Apply the CEMENT SLURRY BOND COAT, when it begin to gel and strengthen, apply the Render, the
Render thickness should not be more than 20 mm (3/4") per coat.
• Or Pour the concrete into the formwork immediately.
A: CEMENT SLURRY BOND COAT
Mix Ratio:      Cement : W 5 : Water
12 : 1        : 2 to 3     by volume
B: RENDER
Mix Ratio:      (Cement : Sand = 1 : 3 to 5 ) : W 5 : Water
                                        18 : 1                                 : 5 by volume
Usage: 0.50 kg / sq. m. per 25 mm thick. 4 % W 5 based on weight of Cement.
Spalling Repairs, Mending worn-out floor and holes, Patching works around piping etc. 
Concrete Curing Agent
Mix Ratio: W 5 : Water = 1 : 7 by volume.
Mix well, brush over freshly poured concrete surface, so to reduce shrinkage cracks, increase strength, surface hardness and to waterproof.
Usage: about 0.5 kg / sq. m per 2 mm thick.
CALCULATIONS
To use 12% of W5:
Dilute W5 : Water = 1 : 1 by volume before adding into the cement and sand mix.
Usage: 6 kg of W5 per 50 kg-bag cement.
TECHNICAL DATA
Physical Form Thick Milky Pure Polymer Solution
Elongation 5.3 time its thickness.
Shelf Life 12 months
Water Test Zero Water Penetration – DIN 1048 part 5 : 91. Tested by SETSCO.
PACKING
4 litre-carboy / 5 litre-carboy/ 10 Litre– carboy / 20 litre-jerry can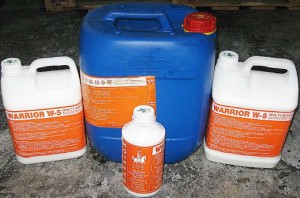 DOWNLOAD CATALOGUE in PDF (Right Click–Save As)
Disclaimer: The information provided in this website is ensured to be as accurate as possible at the time of inclusion, however there may be inadvertent and occasional errors which may have slipped from our notice. W-ONE MARKETING SDN BHD does not guarantee and make no representations or warranties of any kind about the information, advice and opinions provided and reserves the right to make changes and corrections at any time, without prior notice to any parties. W-ONE MARKETING SDN BHD accepts no liability for any inaccuracies or omissions in its website and any decisions made based on information and opinions contained in the website is the sole responsibility of the user.